Bounce House Rentals & Water Slide Rentals In Johns Creek
Online Bounce House and Water Slide Rentals Made Easy!
Just 4 simple steps to book your next inflatable party rental: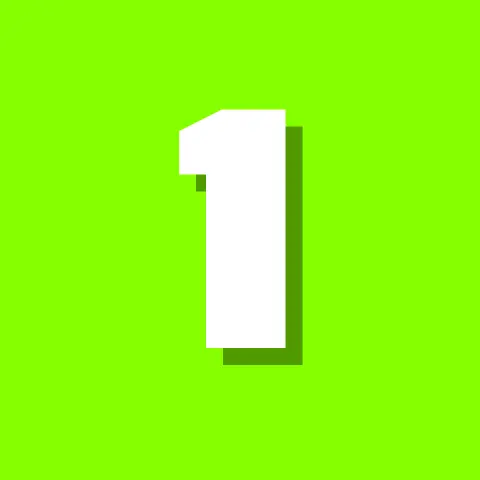 Easy Scheduling
Choose a full day or weekend long rental.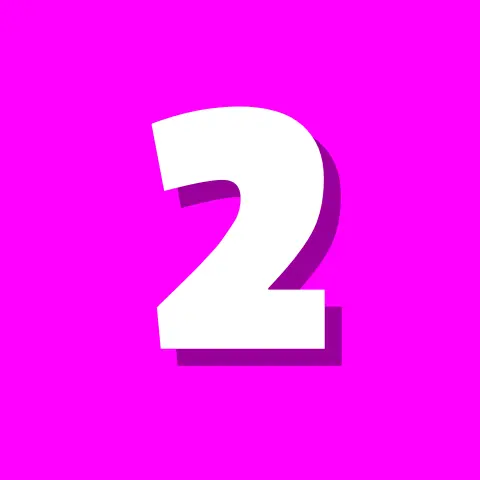 Awesome Products
Browse the available items and add to cart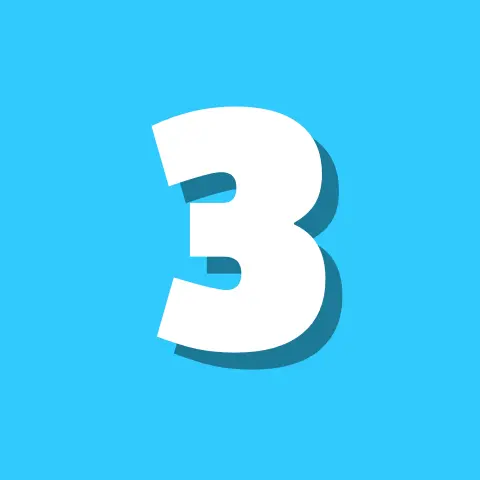 Fast Check Out
Enter your event information and pay a small deposit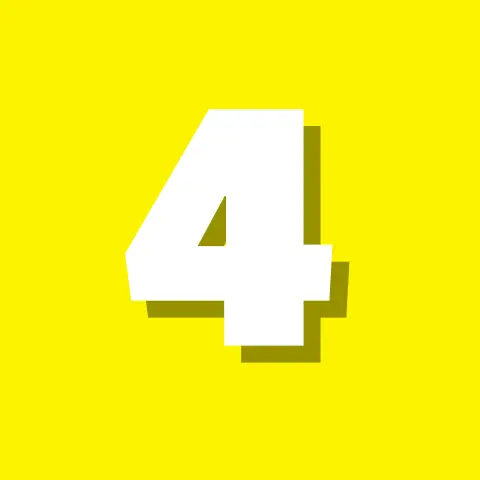 Free Delivery!
We deliver, set up, and pick up for FREE!
Splash into Unforgettable Fun with
Water Slide Rentals in Johns Creek!
Hey there, Johns Creek! Ready to level up your summer festivities? Water Slide Atlanta is here to transform your backyard into a water park wonderland! Forget those inflatable kiddie pools. We're talking about jaw-dropping water slide rentalsthat'll make you feel like you're surfing a tsunami right in Johns Creek!

Our water slide rentals are the life of the party, perfect for the young and the young-at-heart. Imagine the rush of sliding down and making a splash-tastic landing. That's not just a boring ole summer, it's a Johns Creek summer adventure!

Safety? Oh, we've got that locked down. Each water slide rental is rigorously inspected and sanitized before it takes center stage at your Johns Creek bash. Our setup team is all about ensuring everything is secure and ready for action. Your role? Just bring the water and the laughter and we've got the rest under control.

Booking your water slide is a walk in the park with our easy-peasy online system. Choose your water slide, set the date, and you're all set for the most epic summer event in Johns Creek. And let's not forget, we handle the heavy lifting—delivery and setup are on us. We're all about simplifying your life.

But let's get to the heart of it. Water Slide Atlanta is about creating magical moments. We're passionate about crafting experiences that knit communities together. Whether it's a birthday bonanza, a community fair, or a laid-back weekend, our water slide rentals are your passport to a day you'll never forget.

So, Johns Creek, are you pumped to be the talk of the town at your next event? Ready to bask in the cheers and smiles? Then it's time to secure your water slide rental with Water Slide Atlanta. Let's make this Johns Creek summer legendary!
Book Water Slides NOW!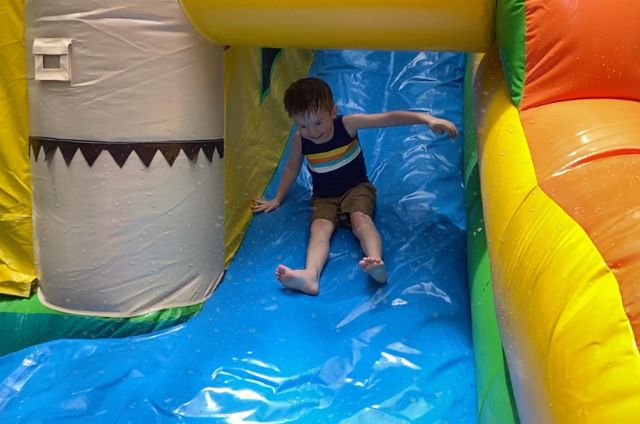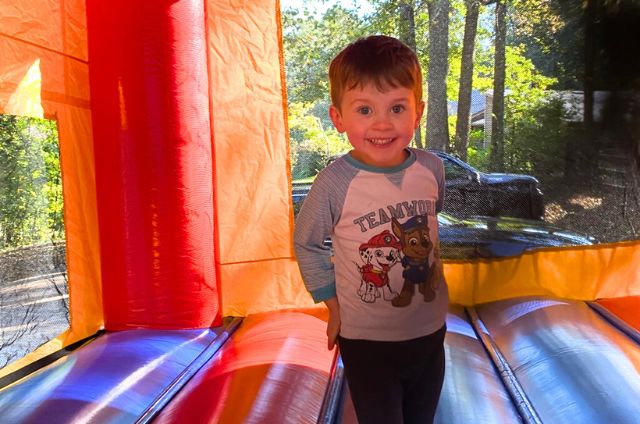 Spectacular Party Transformations For Your
Johns Creek Event with Bounce House Rentals!
Hey Johns Creek party animals and fun enthusiasts! Ever thought about how to elevate a simple gathering into the event of the year? Look no further than bounce house rentals from Water Slide Atlanta! We're not just talking a few hops and jumps. We're delivering a laughter-packed, "I can't believe this is my backyard!" kind of day.

You might be wondering, "A bounce house? For real?" And to that, we say, "You betcha!" Our bounce houses are the VIP lounge of your Johns Creek backyard. Imagine kids in stitches, parents kicking back, and everyone soaking in the good vibes. That's the Water Slide Atlanta guarantee.

Worried about safety? Don't be! We've got that nailed down. Each bounce house rental goes through a thorough "safe and sound" inspection. Think of it as a pit crew for fun, ensuring everything is perfect. You won't have to lift a finger—except maybe to snap some memorable pics.

Booking is a breeze! A couple of clicks on our website, and you're all set. We'll roll in with your bounce house, get it up and running, and swing back later to pack it all up. No fuss, just a tsunami of fun.

But here's the real deal: We're not just renting you a bounce house. We're handing you the keys to an unforgettable journey. The kind of memories that'll have kids chatting and parents smiling for days.

So why go for ordinary when you can have extraordinary? With Water Slide Atlanta, you're getting a service and partnering with a group of fun-lovers and party-throwers. So, are you ready to make your next Johns Creek event unforgettable?

Ready to launch your party into the realm of epic? We're all ears and pumped to bring the fun right to you!
Book Bounce Houses NOW!
From Splashy Water Slides to Bounce House Castles: We've Got Your Party Fun Covered!
Hey there, Johns Creek party animals! Ever pondered how to turn your local bash into an unforgettable fiesta? Look no further! Water Slide Atlanta is your one-stop-shop for a jaw-dropping array of bounce houses and water slides that'll make your event the talk of Johns Creek!

Are you ready for a beautiful Johns Creek day, the grill's fired up, but the kiddos are less than thrilled? What's missing? A bounce house rental from Water Slide Atlanta, of course! It's like adding a turbo boost to your party. The vibe electrifies, laughter is in the air, and your backyard becomes the hottest spot in Johns Creek.

How about transforming your yard into your very own water park? No waiting in line, no overpriced snacks, just pure, unadulterated fun. That's what our water slide rentals bring to the table. Feel the anticipation as you climb up and the adrenaline rush as you slide down into a splashy grand finale. This isn't just a slide; it's an epic adventure!

Concerned about the logistics? Fret not! Booking with us is as easy as 1-2-3. Pick your date, choose your fun, and we'll do the rest. We handle the setup, so you can focus on enjoying the festivities. All you need to do is give us a high-five for a job well done!

Let's talk versatility. Our bounce houses and water slides are the dynamic duo of Johns Creek party entertainment. Whether it's a birthday, a block party, or even a corporate event, we've got you covered. Rain or shine, indoors or outdoors, we adapt to make sure your event is a smashing success.

But here's the kicker: We're not just about inflatable party rentals. We're also here to help you create unforgettable experiences. Experiences that will have kids buzzing and parents sending you accolades for hosting the year's best event. At Water Slide Atlanta, we're in the business of making memories, and we take that business seriously.

So, why settle for the mundane when you can have the extraordinary? Why opt for a basic gathering when you can host a Johns Creek event that's the talk of the town? With Water Slide Atlanta, you're getting a community that values joy, cherishes memories, and knows how to party like there's no tomorrow.<br><br>

In a world that's always on the go, we offer a moment to pause, laugh, and enjoy life's simple pleasures. So, Johns Creek, are you ready to be the hero your party needs? Ready to take your event from "meh" to "WOW!"? Then it's time to book with Water Slide Atlanta. Let's make your next gathering a true celebration of life's happiest moments!


All Categories
Click Here For More!
Our Commitment To Excellence
Hey there, Johns Creek Moms and Dads! Our online booking system is a breeze, freeing you up to enjoy the real fun—like the priceless expressions on your kids' faces when they see our bounce house rentals and water slide rentals roll in. And parents, get ready to earn some serious cool points. Once you've chosen your inflatable adventure, all you have to do is chill. We'll show up with all the gear, set it up where you point, and presto! You get to bask in the glory without lifting more than a finger. How amazing is that?

So, Johns Creek, are you amped to make your next event the talk of the town? With Water Slide Atlanta, you're not just throwing a party; you're creating epic memories that'll have everyone asking, "When's the next one?" Dive into our selection of bounce house rentals and water slide rentals, and let's make your Johns Creek gathering an unforgettable spectacle!
Do You Deliver Bounce House Rentals and Water Slide Rentals Near Me in Johns Creek?
With Water Slide Atlanta, the answer is Yes! Water Slide Atlanta is the #1 supplier in GA of Inflatable Party Rentals such as, Water Slides, Bounce Houses, Obstacle Courses, Inflatable Games, Dry Slides, Concession Machines, Tables and Chairs, Carnival Games, and much more! If you need electricity at your event, we also provide Generator Rentals. Rent your next Inflatable with us, and let Water Slide Atlanta take care of delivering the fun!

Water Slide Atlanta is the rising star in the inflatable party rental scene, and we're all about making waves of fun across Atlanta and its neighboring cities. We're talking cities across Atlanta including: Alpharetta, Atlanta, Brookhaven, Buford, Cumming, Duluth, Dunwoody, Johns Creek, Lawrenceville, Marietta, Milton, Peachtree Corners, Roswell, Sandy Springs, Smyrna, Sugar Hill, Suwanee, Forsyth County, Gwinnett County, Fulton County, Cherokee County, Dekalb County, and Cobb County.


Our Service Area
Proud to Serve The Following Areas:
If your party or event is beyond that radius, just let us know! We may be able to make special accommodations to suit your event.
NOTE: Fees may vary depending on how far you are outside our service area.
https://www.google.com/maps/embed?pb=!1m18!1m12!1m3!1d105799.3536740557!2d-84.26215267407376!3d34.03797584594681!2m3!1f0!2f0!3f0!3m2!1i1024!2i768!4f13.1!3m3!1m2!1s0x88f59f301a38a179%3A0x3d46d6a87e40bd01!2sJohns%20Creek%2C%20GA!5e0!3m2!1sen!2sus!4v1661345292357!5m2!1sen!2sus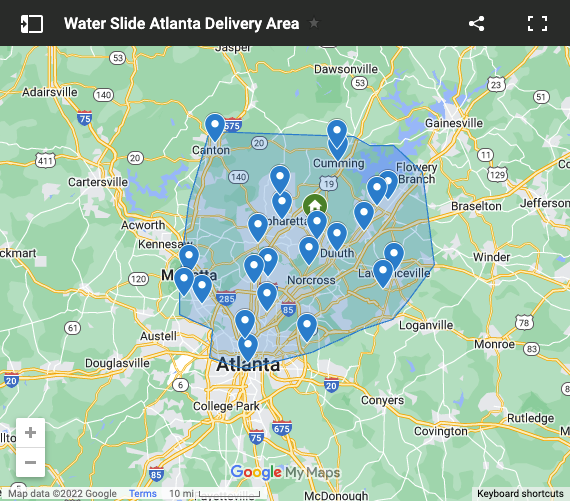 Customers Who Rent Water Slides and Bounce Houses Also Shop For: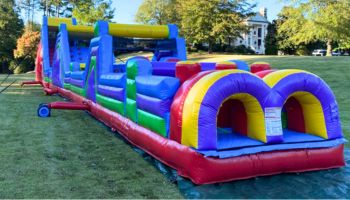 Obstacle Courses
Ready for a challenge? Our obstacle courses aren't just hurdles, they're full-on adventures. Perfect for team-building or pure fun, our obstacle courses are your ultimate test in agility.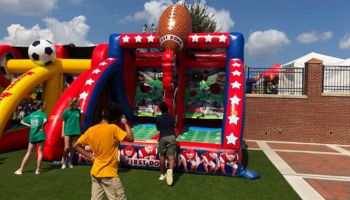 Inflatable Games
Games aren't just for kids. Our inflatable game rentals bring out the competitor in everyone. From school festivals to community events, we add the competetive edge to every event.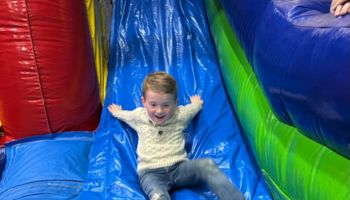 Dry Slides
Who needs water to have fun? Our inflatable dry slides offer a rush that's perfect for indoor events or cooler days. With all the thrill, and no the splash, dry slides are sure to be a hit!
Johns Creek's Best Water Slide Rentals and Bounce House Rentals With Free Delivery!
Water slide rentals are the perfect addition to any summer party or event, and Water Slide Atlanta offers a wide variety of options to fit any need. Our goal is to provide our customers with a stress-free and enjoyable experience, from the moment they book their rental to the moment we take it down. We pride ourselves on our excellent customer service and high-quality rentals, and our customers rave about the unforgettable memories they create with our water slides.
One of the main benefits of our water slide rentals is the convenience of delivery and set-up. We understand that our customers lead busy lives, which is why we take care of everything from start to finish. Our team will deliver the water slide to your location, set it up according to your specifications, and take it down when your event is over. This means that you can sit back, relax, and enjoy the fun without worrying about any of the logistics. We are committed to providing our customers with a hassle-free experience, and our delivery and set-up process is just one example of that commitment.
Another key benefit of our waterslide rentals is the different features and benefits of each type of water slide. We offer slip-n-slides, giant inflatables, and more, each designed to fit different needs and preferences. Our slip-n-slide rentals are perfect for smaller yards or younger kids, while our giant inflatables are great for larger events and older kids. We also offer a variety of colors and designs to fit any theme or occasion. Our water slide rentals are made with high-quality materials and designed for maximum fun, so you can be sure that you're getting a safe and enjoyable experience.
Water slide rentals in Johns Creek are a fun and exciting way to beat the summer heat and create unforgettable memories with family and friends. Our company offers a wide variety of options, from slip-n-slides to giant inflatables, and our convenient delivery and set-up process makes it easy for our customers to enjoy the fun without any of the stress. Book your water slide rental today and get ready for a summer full of fun and adventure!
Do you have bounce house rentals if I don't want my guests to get wet?
Are you planning a birthday party, family gathering, or other special event for your child? Bounce house rentals are a great way to keep the kids entertained and active for hours on end. Water Slide Atlanta offers a wide variety of bounce house rentals that are perfect for kids of all ages and interests.
One of the biggest advantages of renting a bounce house from us is the convenience of delivery and set-up. We'll deliver your bounce house rental right to your doorstep and set it up for you, so you don't have to worry about a thing. Our team of experienced professionals will make sure everything is set up safely and securely, so you can sit back and relax while the kids have a blast.
In addition to our outstanding customer service and convenience, we offer a variety of different bounce house rentals in Johns Creek to choose from, so you can find the perfect one for your child's interests and age group. We have classic bounce houses in a variety of sizes and colors. We even offer inflatable slides and obstacle courses for even more fun and excitement.
So, if you're looking for a way to keep the kids entertained and active at your next event, consider renting a bounce house from us. With our convenient delivery and set-up, exceptional customer service, and wide variety of bounce house rentals to choose from, you're sure to find the perfect one for your needs.
Why rent from Water Slide Atlanta?
Parents and business owners in the Johns Creek area would rent from Water Slide Atlanta for several reasons. Firstly, Water Slide Atlanta offers a variety of water slide and bounce house rentals that are perfect for children's events and summer parties. With their extensive selection, they have something for every age range and every interest.
Secondly, Water Slide Atlanta offers convenient delivery and set-up, taking the hassle out of planning and executing an event. Our professional teams ensure that the equipment is set up safely and correctly so that parents can relax and enjoy the event with their children.
Thirdly, Water Slide Atlanta is known for its high-quality rentals that are always clean and in excellent condition. Parents can rest easy knowing that their children are playing on safe and sanitized equipment.
Fourthly, Water Slide Atlanta offers competitive pricing, making our rentals affordable for families on a budget. They offer many different packages and deals to ensure that everyone can find something that fits their needs and their wallet.
Finally, Water Slide Atlanta has a reputation for outstanding customer service. Our friendly and knowledgeable staff is always available to answer questions, provide recommendations, and help customers choose the right rental for their event. We also have an easy-to-use website with a streamlined booking process, making it simple and stress-free to rent from them.
All of these factors combine to make Water Slide Atlanta the top choice for anyone in the Johns Creek area looking to rent water slides or bounce houses for their children's events and summer parties. Get started today.
How far in advance should I place my order?
We understand that the summer months are in high demand for water slide rentals, which is why we recommend booking early to ensure availability. If you have any questions or concerns about our water slide rentals, our friendly staff is always here to help. We offer an FAQ section on our website to address common questions, or you can contact us directly for personalized assistance.
People also ask us about the cost to rent a water slide or get a bounce house rental.
While the prices vary depending on the size and type of inflatable fun you choose, all of the prices shown on our website include free delivery and professional setup. Our team of professionals will make sure everything is set up safely and securely and then return after your event to take everything down and return it to our warehouse for inspection, cleaning and sanitizing to be ready for the next customer.
What are the age and weight limits for your water slides and bounce houses?
Again, it depends on the bounce house or water slide that you have rented, but they are built for children of all ages. While you may have a group of eight or 10 younger children on an inflatable, you should only have 1 or 2 adults on one at any time. This means that parents can enjoy the inflatables as well. Parents often cannot resist the urge to enjoy one of our water slide rentals to experience the same thrill that their children get.
Bounce House and Water Slide Rentals in Alpharetta