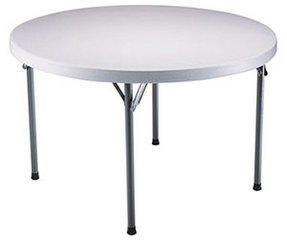 60 Inch Round White Table
Ensure you have enough surface space for any event or party and take the stress out of hosting your next gathering. The round dining folding table is a great option for church events, at home birthdays, and school festivals. Even though it's a smaller size, this 60 inch round resin table can still seat just as many people as our 6' banquet table, making this a great alternative if you need to fit your guests into a smaller area. Add some of our folding chairs and make your event complete!
For set up and take down pricing, please give us a call.



Why Choose our 60 Inch Round Resin Table?
Holds up to 1100 lbs of food or other items
Seats up to 8 adults around the table
The thick granite top is waterproof and stain resistant, so no need to worry about spills!
Tables fold easily and are lightweight in case you need to rearrange your event
Capable of hosting a round table cover to add some color to your event
Why Choose Water Slide Atlanta?