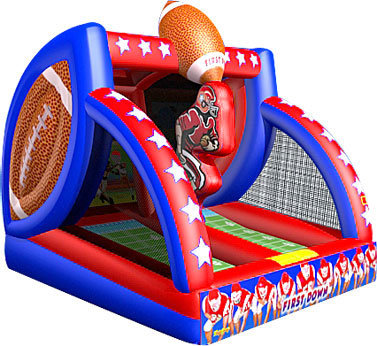 Featured Inflatable Game Rental
Two Player Inflatable Football Game
The Two Player Inflatable Football Game is an exciting game that lets players young and old show off their passing skills. Future quarterbacks can face off with each other, as they throw the football across the field to the back wall that holds a line of receivers. Once the pass is completed, the football then is returned to the opposing quarterback's lane. The competitive spirit of this inflatable game really gets going as each player tries to get rid of all of their footballs. Each First Down inflatable game features linebacker and receiver artwork, along with a simulated football "field" and three-dimensional footballs at the top of the game.
Book Now
Inflatable Game Rentals is a great for any occasion
First, we brought you amazing bounce houses, then epic inflatable water slides. Now Water Slide Atlanta brings you the next wave in extraordinary inflatable party rentals;
Inflatable interactive party games
!
These unique and amazing party rentals are the kind of attractions most guests don't expect to see at an event. They break away from the status quo and give your guests exciting new challenges to take on. Don't be surprised if the kids at your event take off running towards these cool
interactive game rentals
!
Every
inflatable party game
in our inventory is like a child's dream come true. We've got a giant human foosball game, soccer darts, first-down football, a giant inflatable twister, and more. Browse through our wide selection of premium interactive party games to find the one that is perfect for your event.
If you're ready to throw a party that stands out from all the rest, it's time to look at
inflatable party game rentals in Atlanta
. Place your order today and let the celebration begin!
Remember, your order comes with Water Slide Atlanta's:
First-class customer service
FREE delivery
FREE set up and take down
24-hour risk-free cancellation
Thoroughly inspected, cleaned and sanitized inflatable interactive party games
Do You Deliver Inflatable Games Near Me?
With Water Slide Atlanta, the answer is
Yes
! Water Slide Atlanta is the #1 supplier in GA of Inflatable Party Rentals such as,
Water Slides
,
Bounce Houses
,
Obstacle Courses
,
Inflatable Games
,
Dry Slides
,
Concession Machines
,
Tables and Chairs
,
Carnival Games
, and much more! If you need electricity at your event, we also provide
Generator Rentals
. Rent your next Inflatable with us, and let Water Slide Atlanta take care of delivering the fun!
Our Service Area
Proud to Serve The Following Areas:
If your party or event is beyond that radius, just let us know! We may be able to make special accommodations to suit your event.
NOTE: Fees may vary depending on how far you are outside our service area.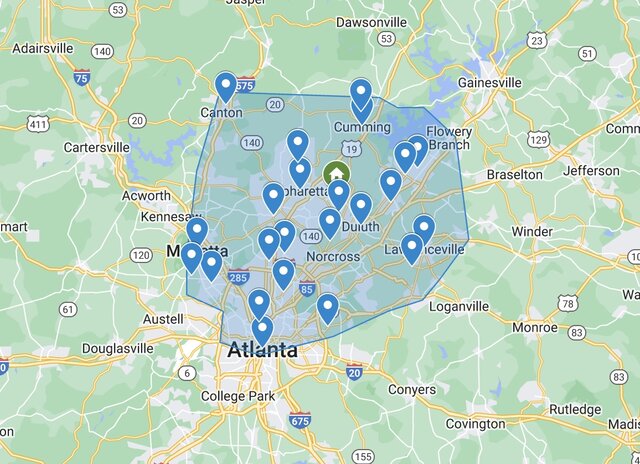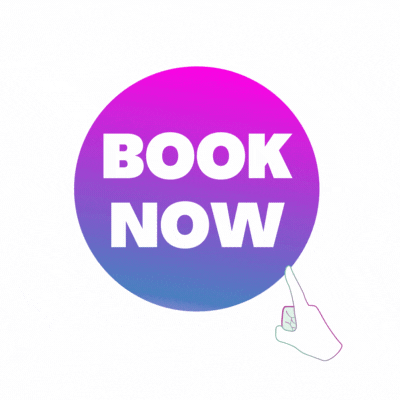 We Make Renting Inflatable Game Easy
24/7 Online Ordering Process

Not only is the ordering process seamless, the confirmation, setup, and pickup process is a breeze as well!


Select the dates of when you want your inflatable game rentals.
Select the item/s you are interested in.
Input your information, as well as where the event will be held.
Pay a small deposit.
Get an instant receipt and confirmation of booking. It's that SIMPLE!
You can either choose to
rent an inflatable Inflatable Games
and other items yourself with our easy online ordering process, or you can choose to call, email, or live chat with one of our team members and they will take you through the ordering process.
After you
rent an Inflatable Games
, a member of our team will contact you within 24 hours to review and confirm the order. Then, on the day of the event, your delivery driver or team will call you to verify the window in which they plan to arrive.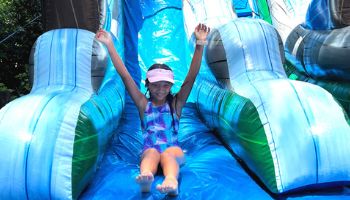 Water Slides
Is there a better way to spend a summer day than by getting the thrill of going down a water slide and splashing your friends down in the deep pool of water? Our slides are a great way to create fun and memorable moments in the sun for your guests.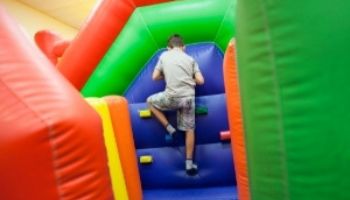 Obstacle Courses
There is no better way to build teamwork and friendships than a few rounds in our obstacle course rentals to see who is the fastest! Our bounce house obstacle courses are made out of tough vinyl yet soft enough for even your youngest jumper!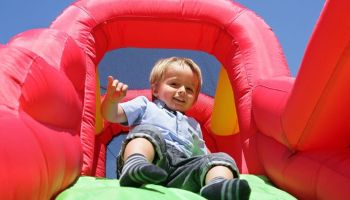 Dry Slides
Get the feeling of the wind rushing through your hair and the thrill of sliding down a giant slide. Our slides are a great way to create fun and memorable moments. We have a wide selection to choose from that will be the perfect addition to your party.
Frequently Asked Questions About Inflatable Games
Why choose Water Slide Atlanta?
Event organizers and households opt for Water Slide Atlanta because:

Your delivery, setup, and pack up time is on us so that your event is a "go" before guests arrive, and rented items are swiftly taken down once your event ends.
We offer world-class customer service. Many companies will say it, but our reviews prove it.
We provide event planning checklists (upon request) to help you throw your dream party.
We pride ourselves on being more than a party rental company: we're your guide to all things party rentals.
What kinds of events and parties do you rent out inflatable Rides and Games for?
We have yet to come across an event for which we couldn't supply inflatables or other party rental items, but if you have doubts, be sure to click the chat icon below to speak to a customer care rep about your concerns, or give us a call. We would be more than happy to hear from you!
Do I need to place my reservation far in advance?
That's a great question. We know the struggle of having to wait, circle back to the site, and discover the item you had your eye on was booked by someone else.

Book early so you know the details of your event. We provide a risk-free cancellation up to 24 hours before your event and guarantee a full refund of any money you've paid upfront as a deposit. We know crap happens. Weather shifts, kids get fussy, and plans change. We've got your back at Water Slide Atlanta.
Which forms of payment do you accept?
Electronic payments or checks only.
Do you offer multi-unit discounts?
WHY WE'RE OBSESSED WITH BRINGING YOU THE BEST IN INFLATABLE PARTY RENTALS

From the time the very first bounce house was invented, in 1959, until now, companies like ours have been obsessed with the enchanting way inflatable entertainment has kids jumping for joy, creating fond childhood memories they will look back on later in life. There is no greater feeling than being in a business that facilitates happy memories and surreal experiences.
Our top priority is to help families like yours put on events worth a thousand memories.
To all the moms and the dads out there who want a very simple way to throw a very special party, we've got your back! Load up your cart with what you need and we'll take care of the rest; free delivery, free setup, and free takedown. You've got you covered!
Every
carnival game rental
in our inventory is a premium commercial-grade game that comes with all the accessories needed to play it.
When you place an order with Water Slide Atlanta, you're also signing up for stellar customer service, the kind that has families choosing our company over and over again. We believe there's no other way for a company to prosper than to take excellent care of its customers. Why? Well, many of us have families too. We bring the same level of attention and devotion to your event as we would bring to our own special occasions.
Water Slide Atlanta provides
carnival games for rent
for backyard parties, school, church, and corporate events. We have all the items you need, and the items you didn't know you needed, like additional chairs, tables, and delectable concessions to make your event nothing short of legendary.
Book with confidence, and let's help you put on a celebration your guests will remember for years to come. You're guaranteed;


Easy-breezy online ordering
FREE on-time delivery
A thoroughly sanitized obstacle course for your health and safety
24-hour risk-free cancellation
Free setup and take down.
All you have to do to
rent carnival games
, add them to your cart, provide us with your event details, and we'll take care of the rest!
The Most Amazing Carnival Game Experience EVER!
Carnival games are the go-to party attraction for families all over Atlanta. They provide hours of fun for a fraction of the cost of throwing a party at an indoor entertainment franchise where they limit food, playtime and attendance.
Water Slide Atlanta has a wide selection of affordable commercial-grade
carnival game rentals
. Each one brings adults back to their childhoods and creates new memories for the younger generation they will eventually remember with fondness. They will never forget having played Giant Jenga, or grabbing over-sized rings to drop the winning piece in Giant Connect Four.
From backyard parties, to school, church, and corporate events, Water Slide Atlanta has everything you need to throw a spectacular celebration.
4 of the Best Tips For Renting A Carnival Game
So you're ready to
rent a carnival game
from Water Slide Atlanta? Great! Here are a few tips to help you choose the perfect set of games for your event.


Consider the size of the carnival game. Most of our games have a small footprint, however, if you're tight on space, refer to the dimensions of the setup area in the product description of each carnival game.
While thinking about size, you may find that you have the space for multiple games to create even more fun.
Next, think about how many people will use the carnival game at once. Depending on the size of your event, if you feel like a good number of guests will have to sit and wait their turn, it might be a good idea to rent additional chairs and a table so guests can sit and chat while waiting for their turn to play.
To complete the feel of a carnival at your event, consider adding delicious concessions to the mix. These are treats your guests won't typically find anywhere else, and that's what makes them so special when they're available at your event.
Once you've chosen your set of fun
inflatable game rentals in Atlanta
you want by adding it to your cart, give us the details of your event, pay a small deposit and we'll take care of the rest!
Book online and enjoy FREE on-time delivery, free setup and take down, risk-free cancellation up to 24 hours after booking, and unmatched customer service to answer any questions you may have.